Malaga Local Food and Drinks
El Pimpi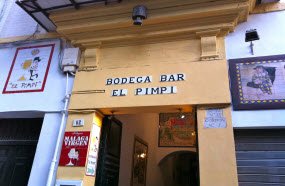 El Pimpi is a gorgeous traditional Spanish restaurant heavily decorated through the use of wine barrels. The indoor and outdoor seating options allow to enjoy the sun or hide from the rain (on the rare occasion that it would rain!). El Pimpi has a great family atmosphere and thanks to the low prices is very popular with locals and tourists alike.
Must Try Dishes: Trying a Spanish Omlette (Tortilla de patatas), a dish central to the Spanish cuisine is vital. The Tortilla is much like a regular omlette, only thicker and includes big chunks of potatoes. It's simple, but more delicious than you can imagine!
Contact Details
| Phone | Address |
| --- | --- |
| +34 952 228 990 | Calle Granada 62, Malaga |
Opening Times
| Price | Opening Timing |
| --- | --- |
| 3-17.50? | 10:00-Late Daily |
Uvedoble Taberna
UvedobleTaberna is a small modern restaurant in the heart of Malaga, serving nothing but the highest quality food in their small dining space. The slate-grey plates hold some of Malaga's best tapas at a very reasonable price. The best thing? You can try a bit of everything!
Must Try Dishes: The award-winning Ceviche Swordfish with Avocado Axarquía should definitely be one of your chosen tapas. The locally grown fresh avocados combine perfectly with the swordfish as a match made in Heaven, as you will soon discover.
Contact Details
| Phone | Address |
| --- | --- |
| +34 951 248 478 | CisterCalle, 15, Malaga |
Opening Times
Price
Opening Timing
3.50-14.50?


12:30-16:00 Monday-Saturday
20:00-24:00 Monday-Saturday
Closed Sunday



Oleo Restaurante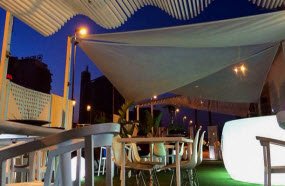 Oleo is a new Tapas and Sushi Bar in Malaga, specializing in Mediterranean cuisine. The restaurant itself, featuring both indoor and outdoor seating is very clean, almost entirely white, with the real focal feature being the amazing food, served with great care, not a single item will be out of place; pleasing the inner-perfectionist.
Must Try Dishes: Another simple yet delicious Spanish delicacy is Patatas Bravas, which is essentially roasted potatoes. However, the Spaniards pair these with different sauces. Here at Oleo the chiefs have created an incredible spicy foam.
Contact Details
| Phone | Address |
| --- | --- |
| +34 952 219 062 | Calle Alemania, Malaga |
Opening Times
Price
Opening Timing
2.50-12?


10:00-24:00 Tuesday-Saturday
10:00-16:00 Sunday
Closed Monday



Antigua Casa de Guardia
Having recently celebrated its 175th anniversary and previously been Queen Elizabeth II's winemaker of choice, Antigua Casa de Guardia certainly has an interesting history! Today you will love the simple, enchanting interior and enjoy the cheap regional wines. All wines are so fresh that they are dispensed directly from the wine barrel!
Must Try Drinks: Let the staff educate you on one of their oldest wines, the Isabel II. The 7-year-old wine has a perfectly velvety texture with finely balanced wood and ripe fruit flavours.
Contact Details
| Phone | Address |
| --- | --- |
| +34 952 214 680 | Alameda Principal 18, Malaga |
Opening Times
Price
Opening Timing
1-10?


10:00-22:00 Monday-Thursday
10:00-22:45 Friday-Saturday
11:00-15:00 Sunday



El Rincon Del Cervecero
Craft Beer has been all the rage in recent years, and has at last come to Malaga! The two-year-old Bar serves 185 different beers, with the owners brewing their own for different events. The simply styled bar also offers tastings and brewing workshops for the more inclined.
Must Try Drinks: One of the owners favourite beers is the Innis and Gunn, a beer, originally discovered by accident when trying to perfect whisky. It's unique flavor is thanks to being brewed in oak barrels and must be tried by all beer connoisseurs.
Contact Details
| Phone | Address |
| --- | --- |
| +34 644 300 458 | Calle Casas de Campos 5B, Malaga |
Opening Times
Price
Opening Timing
3-10?


19:00-24:00 Monday-Wednesday
12:00-16:00 Thursday-Saturday
19:00-00:30 Thursday-Saturday
Closed Sunday



Terraza at Alcazaba Premium Hostel
La Terraza offers the perfect way to wind-down after a long day, whilst admiring the sun set over the gorgeous multicultural city of Palma. The open terrace allows you to enjoy the warm nights into the early morning, watching the city sleep beneath you.
Why not stay at the affordable and premium hostel beneath or even try out the Batik restaurant!
Must Try Drinks: For the best cocktail in town be sure to try The Premium Cocktail, a blend of rum, orange juice, lime, passion fruit and vanilla.
Contact Details
| Phone | Address |
| --- | --- |
| +34 952 229 878 | Calle Alcazabilla, 12, Malaga |
Opening Times
Price
Opening Timing
6.50-7?


15:30-00:30 Sunday-Wednesday
15:30-3:00 Friday
15:30-3:30 Saturday
Closed Monday