London Local Food and Drinks
Bao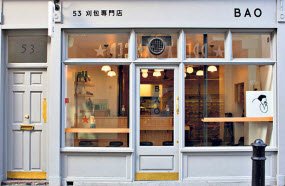 Do you loves and wiches? Well, that's not what you'regoing to get here. At least not with this name – don't of fendany one by calling this fluffy buns like that. Original from Taiwan, this little street foods tall is the newes thype of London and it is close to the famous Piccadilly Circus. That's why you may have to queue. Although too small for a propermeal, a Baois a great snack – or just order more than one if you'rereally hungry and willing to try something new.
Must Try Drinks: Buns filled with pork, chicken or meat are the three classic options, but there are also other Taiwanesed is hes to choose. Sometimes they offeran extra option out of the menu. Asking does not hurt!
Contact Details
| Phone | Address |
| --- | --- |
| 07769627811 | 53 Lexington Street, London |
Opening Times
Price
Opening Timing
£3 - 5


MondaytoSaturday: 12:00 - 03:00
17:30 - 22:00



Fiddie's Italian Kitchen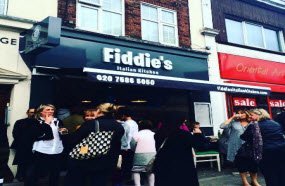 Good food with a fair price. That is what Fiddie's Kitchen offers you. Close to Camden Town, this restaurant's goal is to offer the best Italian food in London. Too ambitious? Well, they nail it! No matter what time, they are full. If you are planning to arrive there with a group of 10 people, it is advisable to make a reservation – youcan do it in their website through a built in app. You can also order it as a take away or ask them to deliver the food in your hotel. Many chances not to leave London without tasting their food!
Food: Besides pastas and pizzas, the menu is filled starters, dishes with meat and fish, and a quite famous tiramisu for dessert.
Contact Details
| Phone | Address |
| --- | --- |
| +(44)2075865050 | 13 New CollegeParade, NW3 5EP,London |
Opening Times
| Price | Opening Timing |
| --- | --- |
| £10 -20 | Everyday: 12:00 - 23:00 |
Beagle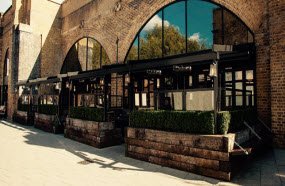 Are you looking for the best meal in Hagger ston? The Beagle may serve to help you with your cravings. Located below Hoxton station, the place was totally renewed in a simple but sophisticated way. The concept of this restaurant is to provide the customer a new food-related experience. Bring friends and order more than one dish – the portions are not huge because they want you to share the food and try them all. On Saturdays, they serve brunch and at lunchtime, they offer a worker's menu for only £10.0.
Food: The menu is seasonal so the ingredients are always fresh, so check their website before hand to know what this season's dishes are. They also offer course menus.
Contact Details
| Phone | Address |
| --- | --- |
| +44 20 7613 296 | 397 - 400 Geffrye Street, Hackney,London |
Opening Times
| Price | Opening Timing |
| --- | --- |
| £20 - 40 | Everyday: 12:00 - 23:30 |
TortelliniCup
The Tortellini Cup, as the name tell you, isnot quite a restaurant but a food stall in the O2 Center. That does not make their Italian delicaciesless delicious. The small menu makes them expert in what they sell and the pasta ingredients come direct from Italy. You can even watch them making the super fresh dough.All this quality is served in a cup – or wrapped in paper for other dishes. Perfect to get your sand keep walk in garound town. If you are in the mood of sitting and eating, just order the normal plates. However, be aware that the place is always crowded with hungry Londoners.
Food: Of course, they offer Tortelinni, but also Gramigna, Tigelle and Gnocco cicio. They all have vegetarian options. The vanilla balls are a perfect take away dessert.
Contact Details
| Phone | Address |
| --- | --- |
| +44 7909 594094 | 255 Finchley Road | O2 Centre, London |
Opening Times
| Price | Opening Timing |
| --- | --- |
| £5 - 10 | Everyday: 11:00 - 22:00 |
Camden Town Brewery
Are you a fan of quality craft beers? The Camden Town Brewery will make your stay in London remarkable! hidden right under the Kentish Town West trainstation, it takes some skills to find this place. Never the less, their variety of beers will make you soon forget you were lost. This brewery were born from the dream of producing good lager beer, and that is what they do. You can make a beer tour guided by the guys, but do not for get to book it in advance in their website!
Special drinks: They brew seven types of beers all year long and are proud of producing lager. Feel free to try them all – they sell a half pint for you to cope with all the drinking.
Contact Details
| Phone | Address |
| --- | --- |
| 0207 485 1671 | Tuesday to Sunday: 14:00 - 21:00 |
Opening Times
| Price | Opening Timing |
| --- | --- |
| £5 -10 | Walking: It's a 10-minute walk from Camden Town, Chalk Farm or Kentish Town tube stations |
The Craft Beer Co.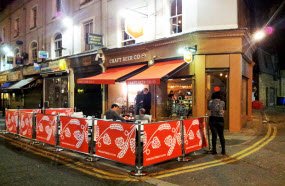 Beer here is a serious business. This pub in Covent Garden offers 45 types of beer! Hard to choose? The staff will let you know which one is best suited to your preferences and they will even let you try some before making an official choice. One of the be loved pubs in the neighborhood is always crowded but the place is big enough to let every one enjoy their beers at ease. Try more than one and, if time is short, come back the next day to try some more! And if you feel hungry after all the beer tasting you can always order a burger!
Special drinks: They have beers of all kinds and flavors. Hands up to the coffee milks tout!
Contact Details
| Phone | Address |
| --- | --- |
| 020 7240 0431 | 168 High Holborn, WC1V 7AA, London |
Opening Times
Price
Opening Timing
£5 - 10


Sunday to Wednesday: 12:00 – 00:00
Thursday to Saturday: 12:00 – 01:00



Bar Kick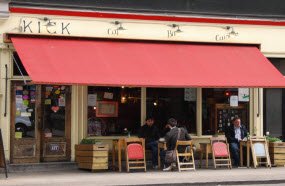 The best sports bar in Shoreditch High Street has a welcoming and unpretentious atmosphere. Perfect for a happy hour and fun with friends – they even have a table football. The staff is always in a good mood because they will likely have fun with everyone else.
Food: The mojito and the brandy are said to be the best in town.
Contact Details
| Phone | Address |
| --- | --- |
| +44 (0)20 7739 | 127 Shoreditch High Street, London |
Opening Times
Price
Opening Timing
£10 - 20


Monday to Wednesday: 11:00-23:00
Thursday: 11:00-12:00
Friday: 11:00-00:30
Saturday: 12:00-00:30
Sunday: 10:00-22:30