Top Things to Do in Madrid at Night
When the sun goes down, Madrid's magnificence will reveal its real beauty. Although the city is beautiful at daylight, when nighttime comes, you'll discover a lot of unexpected things that will surely make you love the city even more. Madrid is a city with incredible nightlife scene, where both tourists and locals converge either at the nightclubs, bars, late night restaurants, and other exciting places in the city.
From the phenomenal flamenco performances, eclectic nightlife, lively tapas bars to beautiful museums and more, here are some of the best things to see and do in Madrid at night.
1. Tour the Reina Sofia Museum
Madrid is known for its excellent cultural offerings. If you're interested to learn more about the local culture, head to the Reina Sofia Museum. Here, you'll find a vast collection of works of art that will make you understand Madrid's local culture even more. There are also seasonal exhibits, guided tours, and different activities that you can take part in.
Since most tourists would visit during the day, you can expect fewer crowds in the museum at night, which makes it a perfect time to visit. The best thing about visiting at night is that you can enter the museum for free, from 7 PM until 9 PM. You can choose to explore on your own or hire a private evening tour with a knowledgeable guide. Having a private guide is a great way to learn more about the different works of art that are on display in this beautiful museum.
Address:
Calle de Santa Isabel, 52, 28012 Madrid, Spain
Duration:10 AM - 7 PM
Price:€10
2. Check out the Legendary Del Diego Bar
If you find yourself craving for delicious cocktails or you simply want to chill out at some of the best bars in Madrid, the Del Diego bar is the best place to go. Opening until 3 AM, hanging out at this bar while enjoying their wide range of cocktail drinks is definitely one of the best things to do in Madrid after midnight.
Del Diego is a popular bar in Madrid. Opened in 1992, this bar has an extensive menu of delicious drinks, including more than 90 cocktails. Aside from the classic mojito, you'll also find other interesting mixes on the menu. The bar has a cozy atmosphere where you can see the friendly bartenders skillfully preparing your favorite drinks while showcasing their amazing bartending techniques.
Address:
Calle Reina, 12, 28004 Madrid, Spain
3. Dine at a Michelin-Starred Restaurant
Madrid is home to some of the world's best restaurants, making it a great destination for foodies. The best way to experience Madrid's exciting food scene is to dine at the city's Michelin starred restaurants, such as the DiverXO, which is the only 3-starred restaurant in Madrid.
DiverXO was given its third star status in 2013 and was the only restaurant in Madrid to do so in the past 20 years. David Muñoz, the restaurant's head chef, has chosen to serve only two menus, which comprises of 8 fixed dishes plus another 10 dishes that would vary from one season to another. Dining at this restaurant, you will be treated to the most palatable cuisines prepared from the freshest ingredients. Reservation is a must so make sure you book as early as possible. DiverXO may be one of the most expensive restos in Madrid, but visiting this place is definitely worth it.
Address:
Calle del Padre Damián 23, Madrid, Spain
4. Visit the Thyssen-Bornemisza Museum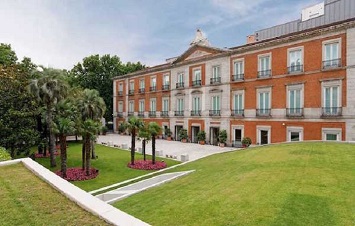 The Museo Thyssen-Bornemisza is one of the museums that make up the Paseo del Arte. It houses an interesting collection of contemporary arts from the early 13th century. Officially opened in 1992, the museum is home to the private European art collections of world famous art collector, Baron Hans Heinrich Thyssen-Bornemisza. It also houses more than 800 paintings from Baron and his wife's extensive art collections.
Opening until 8 PM, visiting this museum is one of the most interesting things to do in Madrid at night with family. Like most of the attractions in Madrid, the Thyssen-Bornemisza can get very busy during the day. So if you want to avoid the crowd, it is best to visit in the evening. Don't forget to checkout the nearby museums as well, such as the Reina Sofia, The Prado, and The Thyssen.
Address:
Paseo del Prado, 8, 28014 Madrid, Spain
Duration:9:30 AM – 8 PM
Price:€12
5. Watch a Concert at the Madrid National Auditorium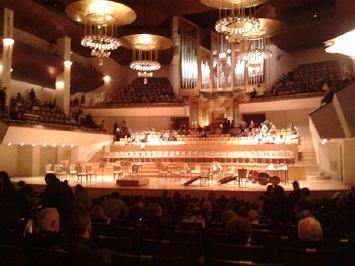 If you want to witness some of the best performances and concerts in the city, then head over to the Auditorio Nacional de Música. Designed by renowned Spanish architect José Maria García de Paredes, the auditorium first opened on October 1988. It was constructed to be part of the National Auditorium Program, which aims to establish a respectable musical infrastructure all over Spain.
If you love classical music, then watching a concert at Madrid's National Auditorium is one of the best things to do in Madrid late at night. Depending upon the time of the year, there are classical music concerts being held in the auditorium almost every night. It is best to book your ticket in advance in order to guarantee seating especially if you are going to watch a concert by the most popular music performers in the country.
Address:
Calle del Príncipe de Vergara, 146, 28002 Madrid, Spain
Duration:Depends on the concert
Price:€depends on
6. Take the Kids to the Parque Warner Madrid Theme Park
If you're traveling to Madrid with your kids, a theme park is definitely one of the best places to visit in Madrid at night. The Parque Warner Madrid is a great place to visit for the entire family, where you get to enjoy a wide range of rides. These exhilarating rides are divided into three categories. You can choose from the intense, moderate, and mild. There's also a section of the park that's dedicated to the water rides and it's known as the Parque Warner Beach.
If you're visiting between the months of July and August, the park is open until 12 AM although the water park is only opened until 8 PM. The best thing about visiting at night is that there's usually less crowds and you get to enjoy a lot of fantastic shows complete with firework displays and music backgrounds. It is highly recommended that you book your ticket in advance. You can also take advantage of the Madrid City Passes to save money on your entry to the park.
Address:
M-506, 28330 San Martín de la Vega, Madrid, Spain
Duration:11:30 AM – 12 AM
Price:€35
7. Experience the Exciting Night Life at Gran Via
The Gran Via is one of the liveliest streets in Madrid when nighttime comes, making it a great destination if you want to experience the city's bustling nightlife scene. This street is lined with thousands of shops, bars, restaurants, cafes, and so much more! It is also filled with so many beautiful buildings showcasing Madrid's early 20th-century revival architecture.
There are absolutely so many things to see and do in Gran Via. You can go shopping at the various commercial establishments that include world-renowned fashion chains in the likes of Zara, Bershka, Oysho, H&M, and more! With the thousands of people that visit this place at night, this place is bustling with so much activity that it seems like it never sleeps! It's also a perfect place to people watch or to simply wander around. If you need a break after a long walk, check out the numerous bars and cafes where you can have coffee, eat some snacks, or have a good meal.
Address:
Gran Via Avenue, Madrid, Spain
8. Go for a Scenic Bike Stroll at the City Streets
If you want a more adventurous way to explore Madrid at night, then book a group cycling tour! After sunset when the lights are on and the city exudes a romantic and charming ambiance, grab a bike and follow your guide along with a group of friends or other tourists. The cycling tour will approximately take two hours and you'll be passing by the famous attractions in Madrid, including scenic landmarks, such as the Plaza Mayor, Retiro Park, Royal Palace, and more.
If you're looking for a more exciting experience on your night sightseeing in Madrid, joining this scenic bicycle tour is definitely a must. It's a great way to have a glimpse of Madrid's beautiful landmarks at night, where these sights are beautifully illuminated beneath the dark sky.
Address:
Central Madrid, near the Prado museum
9. Indulge In Some Delicious Tapas at the Cava Baja
If you got tired and hungry after your late night tour Madrid, the best way to end your day is to feast on delicious tapas! There are lots of tapas bars in Madrid and most of them can be found at the Calle Cava Baja. This street is teeming with customers from day to night, indulging in delicious tapas at the various tapas bars that line the streets. One of the best and the most popular among them is the Taberna La Concha.
The Taberna La Concha features a bar and some seating areas downstairs. It's very cozy and a great place to unwind and share late night conversation with friends. Some of the most popular offerings on their menu are the prawn toast and pork cheek with red wine sauce. Taberna La Concha is also famous for serving the most delectable local wine in the city known as vermouth.
Address:
Cava Baja, 28005 Madrid, Spain
10. Take Part In a Segway City Tour
Another exciting way of exploring Madrid's famous attractions at night is on a segway! With a local as your guide, you will be touring the city's major landmarks and attractions that include the Templo de Debod, Opera Square, Royal Palace, Almudena Cathedral, and more! As you pass by these places, your guide will take time to explain the significance and history of each attraction. Therefore, this tour is not only adventurous, but educational as well.
For those who didn't know, segway is a two-wheeled self-balancing equipment that's easy and safe to maneuver. It's also equipped with headlights and helmet for your safety. As one of the most popular tours in Madrid, the segway tour gets booked easily so it is best to book your reservation in advance.
Address:
Calle de las Huertas, 3928014 Madrid, Spain
11. Shop at the Mercado de San Miguel
If you're into night markets and shopping, one of the most recommended things to do in Madrid late at night for you is to visit the Mercado de San Miguel. This is a covered market that opens in both day and night although it really comes to life when the sun goes down. At first glance, you will not easily recognize the building as a market. The structure was originally built in 1916 and was renovated into a market in 2009. Featuring an intricately designed iron structure, the market shines even more beautifully when nighttime comes.
The Mercado de San Miguel is truly a fun place to visit. It's filled with shops selling vegetables, seafood, spices, fruits, and so much more. There are also locally made delicacies, such as tapas, cheeses, local wine, and a wide range of Spanish snacks! Aside from the shops, there are also cafes and pizzerias in the market. So if you got tired after roaming, you can take a break at one of the coffee shops and treat yourself to some refreshing drinks!
Address:
Plaza de San Miguel, s/n, 28005 Madrid, Spain
12. Take a Walk Along the Alcala Street
If you're looking for some free things to do in Madrid at night, then walk along Calle de Alcala, one of the most beautiful streets in the city and the longest as well. This place features a stream of beautiful structures with magnificent architecture, such as the picturesque Palacio de Cibeles. As you walk along the street, you'll be treated to some of the most stunning views of the city. Drop by at the Círculo de Bellas Artes and check out its rooftop terrace that opens to the city's most panoramic views.
The Alcala street will also lead you to two of Madrid's most significant squares, the Plaza de Cibeles and Puerta del Sol. Other attractions to check out in the area is the Iglesia de las Calatravas, a beautiful neo-classical building that stands out from the rest due to its beautiful red brick facade. Another attraction that's worth checking out is the highly impressive Banco de España. The street is well lighted, so it's definitely safe and easy to explore at night.
Address:
Calle de Alcal‡, Madrid, Spain
13. Enroll Yourself at a Flamenco Dance Class
Watching a flamenco dance show is one of the most exciting things to do in Madrid at night with family. But for a fun and memorable experience, consider signing up at one of the Flamenco dance classes!
The Flamenco dance lesson will take approximately one hour. After that, you'll be treated to a spectacular show by the professional dancers themselves. You are also welcome to dance with them at the end of the show and display the skills you've learned. This is a truly fun activity for everyone, especially since it also comes with a complimentary drink and some tapas! Even if you are not good in dancing, you'll surely have a great time because the moves are suitable to all skill levels.
Address:
Madrid, Spain
14. Treat Yourself to a Cup of Hot Chocolate with Churros
You can never leave Madrid without trying the famous combination of hot chocolate and churros. Churros are among the best-loved desserts in Spain. Although you'll find it being sold in various places all over the world these days, it's a different experience to indulge in this sweet delicacy in Spain, where it originally came from. Churros are often eaten hot and dipped to a cup of piping hot chocolate.
There are many places where you can enjoy hot chocolate and churros but the most popular of them is the Los Artesanos, a family-run cafe that was established in 1902. Serving delicious churros and hot chocolate, the place is often filled with locals and tourists. There's a glass window where customers can get a glimpse of some pastry chefs shaping dough into spirals and frying them straight into the oil. Los Artesanos also offer dark and milk chocolate for dipping your churros.
Address:
Calle de San Martín, 2, 28013 Madrid, Spain
15. Join a Pub Crawl and Experience Madrid's Phenomenal Nightlife
Do you want a more enjoyable way to party the night away? Then join a pub-crawl in Madrid! Joining a pub-crawl means you don't need to look for the best party places yourself, which saves you a lot of time! You just have to follow the crowd with a local guide as you visit the best bars and clubs in the city!
This 5-hour activity will take you to the various nightlife spots in the city, each offering a different atmosphere. You will be joining a group of revelers who love to party as much as you do. It's a great way to meet new friends while enjoying complimentary shots of drinks at some bars! Indeed, joining a pub-crawl is a great way to discover Madrid's phenomenal nightlife scene especially for the younger crowd.
Address:
Plaza Mayor 28012 Madrid, Spain